De woningmarkt toont in 2014 een flink herstel, mogelijk het beste jaar sinds het uitbreken van de crisis. Maar wat gaat de markt doen in 2015 als diverse steunmaatregelen beëindigd zijn?
"De vraag is of de woningmarkt volwassen genoeg is om op eigen benen te staan", aldus Ger Hukker, voorzitter van makelaarsorganisatie NVM. Zelf zegt hij het antwoord niet te weten.
Hukker vergelijkt het met het moment dat zijn dochter leerde fietsen zonder zijwieltjes. "Het lijkt goed te gaan op het moment dat je loslaat, maar soms moet je toch nog hard rennen als het verderop mis dreigt te gaan."
"Een jaar geleden was er nog paniek in Den Haag over hoe de woningmarkt uit het slop gehaald moest worden. Een jaar later trekken ze de handen ervan af, want 'het beleid heeft gewerkt'."
2015
De verruimde schenkingsvrijstelling wordt niet verlengd en er komt geen extra geld voor startersleningen. Vanaf 1 juli 2015 vervalt tevens het lage btw-tarief op arbeid van verbouwingen en renovatie.
Daarnaast daalt het maximale leenbedrag ten opzichte van de waarde van de woning (loan to value) met 1 procentpunt naar 103 procent en wordt de leencapaciteit ingeperkt door het Nibud. Ook wordt per 1 januari de maximale hypotheekrenteaftrek weer 0,5 procentpunt verlaagd.
Daar staat tegenover dat het consumentenvertrouwen stijgt, de hypotheekrente laag is en de huren volgend jaar weer verhoogd worden.
Maandlasten
"De concurrentiepositie van de koopwoning is verbeterd", stelt Hukker. Een simpele rekensom toont dat de netto maandlasten flink gedaald zijn ten opzichte van het vierde kwartaal van 2009.
De hypotheekrente is gedaald van 5,2 naar 3,4 procent. De gemiddelde woningprijs is afgenomen van 229.000 naar 214.000 euro, waardoor de benodigde hypotheek ook is gedaald.
De netto maandlasten zijn in dit voorbeeld gezakt van 969 euro in 2009 naar 771 euro in 2014. Een afname van 21 procent, terwijl de koper in 2014 ook nog eens 270 aflost.
Amsterdam
Met name in delen van Nederland waar huurwoningen schaars zijn en de huren hoog, is het dan ook niet gek dat mensen kiezen voor een koopwoning.
In Amsterdam wordt ook buiten het centrum een deel van de huizen boven de vraagprijs verkocht. Dat varieert van 3,2 procent van de woningen in Osdorp tot 21,2 procent van de huizen in Oost/Watergraafsmeer. Maar ook in Amsterdam zijn veel woningen die langer dan een jaar te koop staan.
Toekomst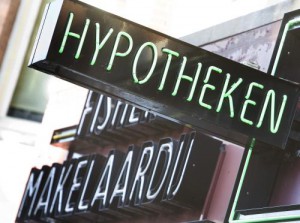 Hukker ziet 2015 wel met vertrouwen tegemoet, al zullen de percentages van het aantal verkopen normaliseren. Hij verwacht dat het aantal transacties 0 tot 10 procent hoger zal liggen dan 2014.
De NVM-voorzitter waarschuwt wel om de loan to value niet verder af te bouwen. Het zou een "doodsteek" zijn als ideeën over het afbouwen van dit percentage naar 80 procent werkelijkheid zou worden.
Kopers moeten dan meer eigen geld meebrengen, maar volgens Hukker is er niet op te sparen tegen een stijgende huizenprijs. "Daarnaast heeft een starter met een annuïteitenhypotheek na tien jaar 23 procent afgelost, dus waar hebben we het over?"